Professional Development & Training
Our goal for our professional development program is to equip our new and seasoned workforce with the skills they need to enter the workforce or take their career to the next level. Mack Global's trainers provide practical and realistic professional development techniques that are proven success strategies. Our customers include government entities, private sector firms, as well as non-profit agencies.
Our team of experts offer a wide array of workforce professional training and development opportunities, including:
Job Readiness

Resume Writing
Job Exploration Techniques

Career Development

Job Interviewing Skills and Techniques
Customer-Service Skills Training
Job Related Self-Questioning Techniques
Leadership development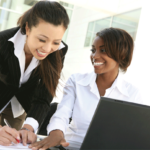 Our trainers have many years of leadership experience and they've managed hundreds of employees. Our training programs have been carefully developed to help increase employee effectiveness by refining and building job skills. Professional  training provides tools and resources that give employees the launch they need to reach their career aspirations.
Interactive and Engaging Training
Our instructors utilize a variety of strategies that are designed to engage the audience and maximize learning. Each professional development training session includes interactive group segments that encourage attendee participation by creating a relaxed atmosphere, thus fostering a more conducive learning environment.